Over 40 Years as South Dakota's Most Comprehensive Treatment Center for Drug, Alcohol, and Gambling Addiction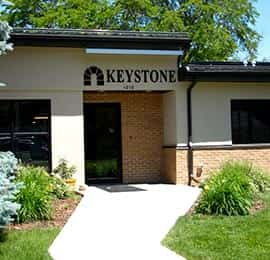 Why Choose Keystone?
For over 40 years, Keystone Treatment Center has been committed to delivering high-quality, holistic care. We attend to not only the physical aspect of addiction, but also to the emotional & spiritual aspects as well. Our highly trained team of professionals believe in our patients' inherent ability to change, & we do all that we can to promote the growth & renewal of everyone who is entrusted into our care.
Welcome to Keystone Treatment Center.
If you are looking at this website, chances are that you or someone you love is struggling with an addiction to drugs or alcohol. You have come to know the pain that addiction can cause, and you are desperate for a way out. Thankfully, the pain does not have to be permanent. There is hope.
At Keystone Treatment Center, we understand the unique challenges that come with battling addictions and co-occurring mental health disorders. Since opening our doors in 1973, we have helped more than 20,000 people win the war against addictions and other destructive behaviors, and we want to help you or your loved one break free from the cycle, too.Our treatment programs are specially designed with the unique needs of our patients in mind. We have specialized programs for
adolescents
,
young adults
, and
adults
because we know that different age groups respond differently to various types of treatment. We are passionate about helping people overcome their
substance abuse
concerns, and we are also dedicated to helping people who are struggling with
co-occurring disorders
, such as anxiety, bipolar disorder, or depression. We offer
specialized treatment programs
for patients who are seeking culturally-sensitive treatment in a Native American context, or for those who require comprehensive programming to defeat a gambling addiction. All treatment is delivered in a caring and supportive environment by compassionate team members who make patients' needs their top priority.
Why Should I Get Rehab Near Me?
Seeking addiction & co-occurring disorder treatment close to home provides the convenience of getting to our treatment center without the added stress of travel and financial strain associated with travel costs. Instead, you or your loved one can receive the necessary treatment right away and family members can be a much more active part of the recovery process, a fundamental element for long-term success.
You or your loved one has fought addiction on your own long enough. It is time to find freedom. Call Keystone Treatment Center today and start turning your hope into reality.